Check it out and much love to J. Mase III!
http://www.huffingtonpost.com/j-mase-iii/queering-islam-an-intervi_b_5549913.html
Within many secular LGBTQIA spaces, being a person of faith can come with a lot of added baggage. With Ramadan in full bloom, it becomes hard not to acknowledge that to be both queer and Muslim means navigating a host of phobias focused on your right to love, your right to claim your gender and your right to pray. Coming Out Muslim: Radical Acts of Love, will be featured July 7th & 8th as part of the Fresh Fruit Festival happening right here in NYC. Having roots within Islam as a queer activist, I was more than honored to invite castmates Wazina and Terna, to share a bit about themselves, their current project and what New Yorkers can expect from this show!
J Mase III: How did Coming Out Muslim come about? Can you tell us about your role and who else is involved?
Terna: Coming Out Muslim evolved from a project Wazina and I did calledInterrupting Islamophobia. It was a seven week series of sessions we facilitated for youth workers in New York City around how to deal with Islamophobia in their work. As Wazina and I are both queer Muslims and both committed to social justice, we felt it was essential to include queer Muslim experiences as well as those of others who are typically marginalized by "mainstream" Islam. One of the participants, Laura Marie, was/is a theater maker and all-around gem of a woman who then invited us to create a visual gallery of their Muslim pieces along with a few pieces from allies. I've been a writer just about my whole life and was very involved in theater for a number of years. Though I have a great love for gallery spaces and endeavors I'd never undertaken to create one myself. I don't think Wazina had either, but we said yes.
So during New York City Pride month, June 2011, we opened what turned out to be a really beautiful show. We had submissions from queer Muslims in various parts of the world, a beautiful series of photographs of queer Muslims done by the lovely Patrick Mulcahy. (he continues to shoot portraits of queer Muslims). More people came than we expected and the whole thing was really just a lovely experience. After that Laura Marie, who is quite persuasive in a loving and powerful way, asked Wazina and me if we wanted to do a show. She made it incredibly gentle for us by producing the show and really making a lot of things happen, while Wazina and I wrote. We initially set out to have a three night run at a small theater. Here we are nearly 3 years later! Now we have a beautiful soundscape by the inimitable Alsarah as well. She performs with us when she can.
J Mase: Who is your target audience? What do you feel is the purpose of this work?
Terna: It's for all those who say "I thought I was the only one," "I've never met another queer Muslim" or "I gave up Islam because I'm queer." For me, when we perform I'm really aiming for folks who have felt that they couldn't hold being queer and being a person of faith at the same time. Every time we perform, we meet someone for whom the possibility was out of the question before the show. After the show, holding both becomes more possible. I think the purpose of the show is also to be a vessel for the message "there is space for all of us in God's creation."
Wazina: For me, the show, the conversation, the messages/intention behind each piece is for people under the LGBTQIA umbrella, particularly white folks/non-folks of color. For me, coming out as queer was never very personally difficult, however, occupying common and shared spaces with white folks within queer spaces, coming out as Muslim and as an Afghan woman has been more layered, sometimes difficult and almost always with a raised eyebrow or a series of curious questions. Often, I felt special and even significant being asked and answering them, but more and more, I recognize the subtle (and sometimes not so subtle) features of Islamophobia, racism and xenophobia underlying the interactions.
The purpose of this work is to affirm the existence of all people, in all of our contradictions, perceived or actual!
J Mase: Is performing Coming Out Muslim during Ramadan intentional? Do you think it will change how the work is perceived?
Terna: You know, this is the second year we're doing shows during Ramadan. We didn't sit down and say "hey, let's do shows during Ramadan," and yet I absolutely believe that is intentional in the sense that that is when opportunities have manifested. It gives us a chance to bring folks together, folks who may not otherwise be in the same room. In that sense, it is very much keeping the spirit of the month. I think there is a way that others might interpret our performing during Ramadan as incompatible with the month, but for us, it isn't. I also heard from Laura Marie that in Sudan, it's quite common to have performances after Iftar, which I didn't know! Wazina and I keep the fast in various ways during the month, and we will continue the tradition of our Ramadan blog again this year.
Wazina: Ramadan is about reflection. My mother always reminded me that Ramadan wasn't about just keeping my mouth shut (and not eating) and offering the show to both to the public and our community, I look forward to reflecting on the new lessons that come up for me each and every show. I also can't help but be made to stop and notice the longevity of the show into a third year, and to smile at the way Ramadan cycles its path across ours.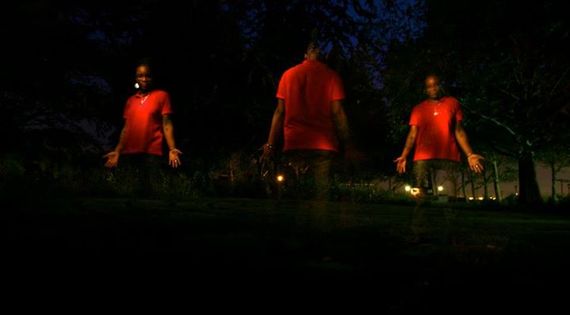 J Mase: How do you personally deal with Islamophobia within the LGBTQIA community?
Terna: Interrupt, interrupt, interrupt! Often when people say Islamophobic things in my presence, the first step for me is letting them know that I'm Muslim. It's amazing what folks say when they don't think a certain identity is in the space. I get in there and let folks know, lovingly, what they are unaware of, significant perspectives that are left out of their point of view. Of course I have my anger as well, and I find that people don't receive interruption well if it isn't couched in a way they can actually hear. Then there are all the ways the racism, white privilege and the myth of a single, coherent "American culture" get caught in the web as well. Sometimes it's wearisome to have to assert one's existence time and time again, but it must be done. For me, I also feel that we are not only in the world doing this work for ourselves, we're doing it for all the folks who are not able to safely assert their existence. This requires I raise my voice wherever I can. I recently heard the term "counter-oppression" instead of "anti-oppression". I like that. It embodies the action. Inshallah I strive to counter oppression within LGBTQIA communities and beyond.
Wazina: Countering Islamophobia within the LGBTQIA community has been ever evolving for me. Much like Terna, I come out as Muslim time and time again. I get angry, I get sarcastic, I shut down and I let my absence speak for itself. And more than that, I rely on the role of my accomplices and non-Muslim comrades to assist in countering the Islamophobia. When we first started the Interrupting Islamophobia study group, the intention was to 'get ahead' of the 10 year anniversary of September 11 and to provide educators with tools to understand Islam for themselves and the rich and complex layers of experiences of Muslim youth and families. For me, sharing a story with someone and making a personal connection is the the crux of how we shift and change perspectives. This is also why we choose storytelling in the show.
J Mase: What do you want other queer Muslims to get from this work? Non-Muslim queers?

Terna: I want other queer Muslims to feel affirmed, appreciated and celebrated through Coming Out Muslim. I also want them to feel connected to a larger sense of community and to know there is space for all of us under the banner "Muslim". One of the things I'm most proud of that the show has contributed to, is getting queer Muslims connected.
For non-Muslim queers of faith, I want them to walk away feeling connected and seeing themselves reflected, though the details of the faiths we hold may be different.
For non-Muslim queers who do not identify as people of faith, I want them to get a little more comfortable with the fact that we exist and that some of us choose to hold our faith in significant ways. I also want the show to help non-Muslim queers develop some awareness around some of the microaggressions we hear that can cause fissures in relationships where the subject of faith is treated in a cavalier or highly ignorant manner, which both Wazina and I have experienced.
The show is actually quite funny and gets at universal topics such as family, love, the complex ways we navigate our cultures and more. I want everyone to walk away feeling moved by our very human stories.
Wazina: I cannot agree more with Terna!
As an educator working with young people everyday, I meet queer youth, queer youth of faith, non-queer youth of faith who are struggling with being okay with their sexual orientation, gender identity/expression – and I want them to be more than okay – I want them and all of us to thrive – in our communities, in our classrooms and in our homes.
I also want compassion and empathy to come from this work – for there to be compassion towards those who are ignorant and sometimes hurt us; for compassion for one's self and our processes – to forgive ourselves for our mistakes and to be easy with yourself (as Terna always says to me!) in the process and understanding. Most of all, I want queer Muslims, non-Muslim queers and all else to create unimaginable alternate realms of radical possibility for our lives. I want radical acts of love!
J Mase: What else should folks know about Coming Out Muslim? Where else can we find you all?
Terna: We go where we are invited! As part of the show, we usually do talkbacks and/or workshops around a variety of topics. We want to take the show and the conversations that go with it far and wide. We're always atcomingoutmuslim.com.
Wazina: NYC folks or those traveling through, can find us at the Fresh Fruit Festival, Tuesday, 7/8 and Wednesday, 7/9 at 9pm at the Wild Project in the East Village. Tickets can be purchased here!